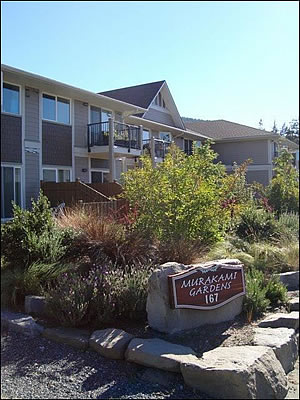 Affordable, Healthy, Safe and Permanent
Murakami Gardens is a twenty-seven unit apartment building on Rainbow Road in the Ganges Village for Salt Spring Island families and individuals.
There are 27 self-contained studio, one, two and three bedroom rental suites with rent levels set to ensure ongoing affordability. Applicants will need to meet eligibility criteria to be considered for tenancy.
For current tenant maintenance requests, please click here.
If request is after normal business hours, and this is a maintenance emergency, please call 250-537- 7011.
Salt Spring Island Community Services would like to invite all applicants seeking housing to fill in our
ONLINE TENANT APPLICATION FORM
Please note that the Salt Spring Island Community Services application submissions do not form a "Waiting List".
Tenants for both Salt Spring Commons and Murakami Gardens are selected based on a number of criteria, and not necessarily on a "first come" basis. Salt Spring Island Community Services as well as other organizations in Salt Spring are dedicated to assisting all residents with specific ties to our community who are in need of affordable housing.
Our online application process will assist us in determining both your specific need for housing, as well as providing invaluable data to support our efforts to create more affordable housing.
Please note that if we do have a vacancy in either Salt Spring Commons or Murakami Gardens, we will post the vacancy on our website, as well as Salt Spring Exchange.
For further information, or if you have questions please