The Recycling Depot is the central location for residential recycling located at
349 Rainbow Road
Hours Open: 10.00am – 5.00pm, Tuesday to Saturday
(NOT OPEN Sunday, Monday, statutory holidays and Saturdays of long weekends)
We are accepting all the usual materials with the exception of scrap metal and large appliances at this time.
Temporary suspension of styrofoam collection due to floods and road closures.
Please see What Can Be Recycled for a comprehensive list.
The Book Exchange is closed during the pandemic and books are not accepted in recycling in any form.  Please do not rip pages from books and add to paper.
Please sort your recycling prior to arrival!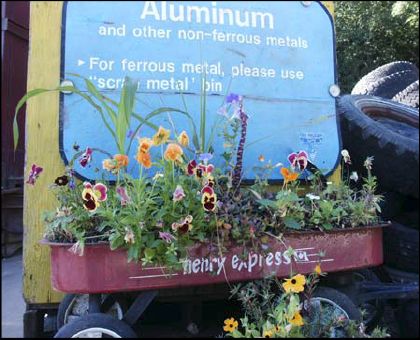 This public service is provided under several contracts. The main contract is with RecycleBC, to provide the equivalent of residential "Blue Box material" collection. It is collected at a central depot at 349 Rainbow Road rather than curbside.
Blue Box material refers to:
Cardboard
Paper
Rigid plastic packaging
Containers (glass, metal, plastic – including lids).
As well as Blue Box materials, the depot accepts many other materials.
Please note: The depot will only accept packaging and paper from residential clients. Commercial & institutional clients do not have access to these bins. They may bring other materials such as tires, and electronic waste. These changes reflect RecycleBC policy of only funding residential blue box material.
RECYCLING DEPOT CLOSURES FOR 2021
New Year's Day January 1
Family Day long weekend Saturday Feb 13th
Easter – April 2nd and 3rd
Victoria Day long weekend – Saturday,May 22nd
Canada Day July 1st
BC Day long weekend – Saturday, July 31st
Labour Day long weekend – Saturday, Sept 4th
Fall Fair – Saturday, Sept 18th
Thanksgiving – Saturday, October 9th
Remembrance Day November 11th
Christmas Break Dec 24th and 25th
The depot is also the Island's only BC Productcare Depot. Through a contract with BC Productcare, we accept leftover household paint and stains as well as pesticides, poisons, and flammable liquids.
The depot also makes available some materials for re-use. A "book and magazine exchange" is operated by volunteers and offers free reading material.
The service is open to residents of the Salt Spring Island Electoral Area, and we encourage everyone including tourists, and boaters to recycle with us.
Contact
Phone: (250) 537-1200
Mailing Address:
c/o Salt Spring Island Community Services
268 Fulford-Ganges Rd
Salt Spring Island BC V8K 2K6
CRD Recycling Hotline: 1-800-663-4425 (ask for hotline)
Links and Further Information
Coast Waste Management Association